Product Overview
Esteem is the first and only fully implantable hearing aid for patients suffering from sensorineural hearing loss. As part of this medical device brand launch, the campaign "Invisible Hearing. Obvious Advantages." serves to highlight the invisible nature of the device and is a springboard to discuss a multitude of lifestyle benefits enabled by the technology.

Campaign Overview
The Esteem Marketing Program is developed to increase consumer awareness and understanding of this breakthrough technology. The program includes in-office education, national promotion, and community outreach tools for audiologists to grow their practices.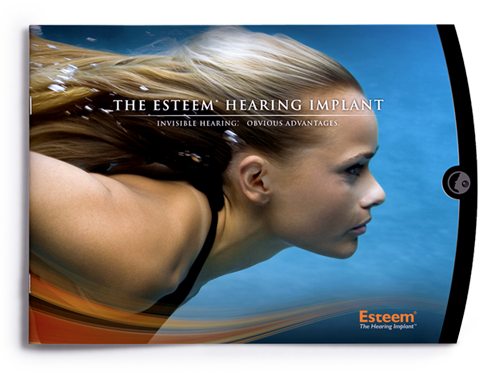 In-office Education
The in-office education program utilizes a myriad of tactics that reinforce the message throughout the office visit and at home. The program consists of a brochure, front-office and back-office posters, an iPad app, and a patient education video.

iPad App
Patient education iPad apps are designed to facilitate health care professionals in counseling potential patients, as well as to serve as a waiting room educational tool. In this case, the app is developed for use in auditory practice settings. The app is available via iTunes to enable easy practice implementation.
Download the App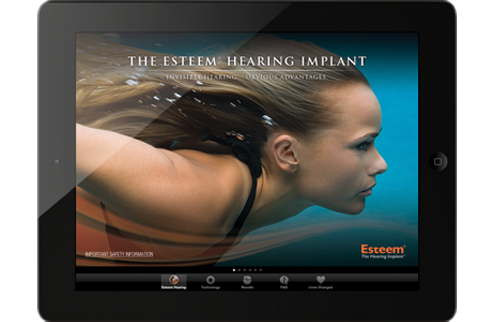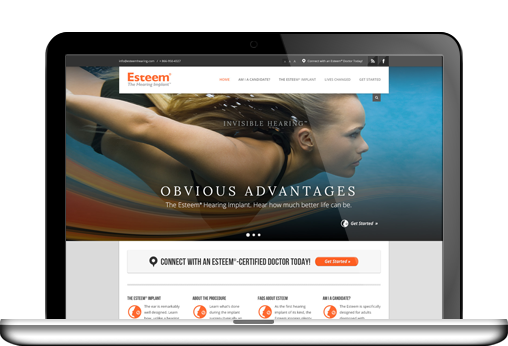 Consumer Website
The consumer website serves as a primary educational channel to drive awareness and interest in Esteem, and ultimately drive leads. The site features comprehensive educational content, a self-assessment screener, and a robust physician locator function.
Television Commercial
The Esteem television commercial serves to jump start interest and leads in the technology.
Patient Education Animation
How the technology works and its key benefits are described in this high-quality animation. The animation is used across numerous channels including the Esteem website, YouTube, the iPad app, and as part of patient seminar presentations.

Online Advertising
Online advertising includes display, SEA, search retargeting, and site retargeting. Advertising is national in scope, with an emphasis on core regional markets.

[kml_flashembed publishmethod="dynamic" fversion="9.0.0″ replaceId="est300″ movie="/wp-content/uploads/2014/02/ESTEEM_300x250.swf" width="300″ height="250″ targetclass="flashmovie" play="false" quality="high" scale="showall" wmode="opaque" allowfullscreen="false" allowscriptaccess="always" allownetworking="all"]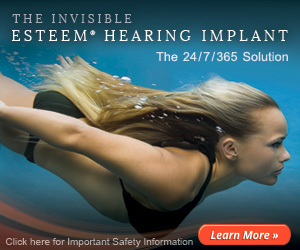 [/kml_flashembed]
[kml_flashembed publishmethod="dynamic" fversion="9.0.0″ replaceId="est300″ movie="/wp-content/uploads/2014/02/ESTEEM_728x90.swf" width="728″ height="90″ targetclass="flashmovie" play="false" quality="high" scale="showall" wmode="opaque" allowfullscreen="false" allowscriptaccess="always" allownetworking="all"]

[/kml_flashembed]
[kml_flashembed publishmethod="dynamic" fversion="9.0.0″ replaceId="est300″ movie="/wp-content/uploads/2014/02/ESTEEM_160x600.swf" width="160″ height="600″ targetclass="flashmovie" play="false" quality="high" scale="showall" wmode="opaque" allowfullscreen="false" allowscriptaccess="always" allownetworking="all"]
[/kml_flashembed]