Campaign Overview
Curing lights, used routinely in the dental industry, have traditionally relied on somewhat slow battery recharges to keep functioning. The use of ultracapacitor technology as a power source represents a breakthrough in curing light technology. The "No Equal" campaign is a powerful, succinct statement of the benefit of this innovative technology.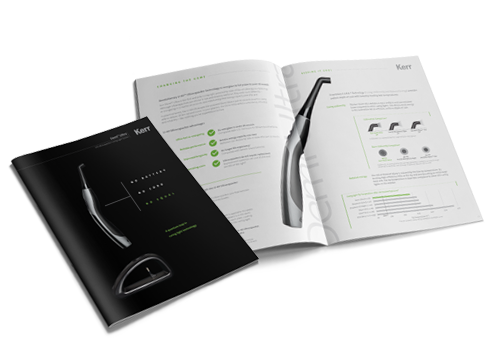 Sales Collateral
The product benefits of the Demi Ultra are defined during the Brand Mapping process and developed into core selling collateral.

Animation
Medical device animations can be a core selling resource that describes a complex technology in straightforward terms.
Trade Advertisements
The product launch was supported by trade advertising, both directly from the company as well as the dealer network.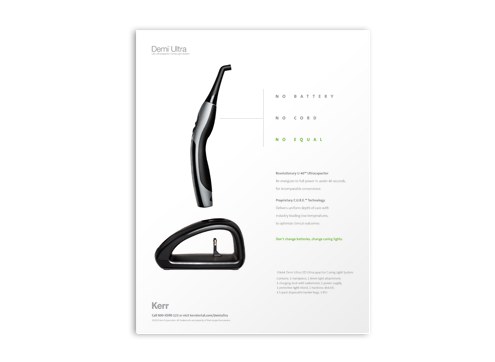 Web Banner Ads
Banner ads are an effective method for physician-targeted online marketing in the dental industry, which includes numerous well visited industry websites.
[kml_flashembed publishmethod="static" fversion="9.0.0″ replaceId="olf160″ movie="/wp-content/uploads/2014/02/DEMI_728x90.swf" width="728″ height="90″ targetclass="flashmovie" play="true" quality="high" scale="showall" wmode="opaque" allowfullscreen="false" allowscriptaccess="always" allownetworking="all"]

[/kml_flashembed]