Campaign Overview
Actifuse bone graft substitute can be used in a variety of orthopedic applications and is a global product sold through both distributors and direct sales representatives, making a digital campaign an effective and efficient approach.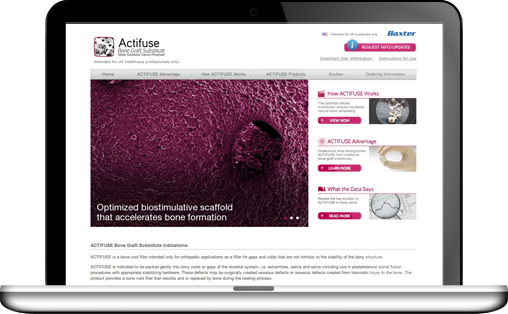 Website
The Actifuse graft substitute website is designed to highlight the product's efficacy in numerous orthopedic uses.
Visit the Site
iPad App

Dynamic Assets
Dynamic assets allow frequent content update and ensure the global selling message remains consistent, especially useful in distributor markets.


Engaging Motion Graphics
Anatomical x-ray motion graphics are utilized to highlight various orthopedic applications for the Actifuse product.


CRM Functionality
The app is capable of sending additional educational information and videos to physicians, while concurrently creating a database for future marketing and selling communications.

The Final Result
This video highlight reel demonstrates major functionality of this healthcare iPad app.