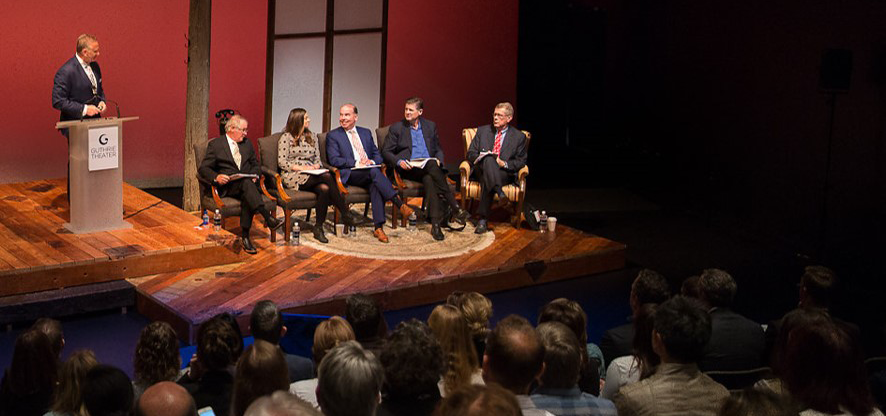 Physicians and Experts Share Tips for Marketing 'Value'
On May 18, 2017, DevicePharm and Medical Alley Association co-sponsored an event titled "Communicating Value – Marketing Success In A Value-Driven Environment". The event, held in the iconic Guthrie Theater in downtown Minneapolis, was attended by 200 members of the Minnesota medical device, biotech, diagnostics, and pharmaceutical community.
The event featured a panel that included surgeons, a reimbursement and payer expert, a medical device industry executive, and the founder and physician head of one of the nation's largest single-specialty medical groups. It was moderated by DevicePharm CEO and Chief Strategy Officer, Clay Wilemon.
There were many actionable points made by the panel on the topic of how, when, and where to communicate value to hospitals, payers, physicians, and practices. One of the key points was that the 'value message' is not homogeneous. In other words, there is often a different emphasis needed in the value story depending upon the audience.
Also, there was great discussion about how much value delivery may be too much. Specifically, the panel looked at programs offered by medical device companies to help engage and manage patients to optimize outcomes. These programs were well received by the panel, but the question emerged about how much of the patient engagement physicians should be sharing with partners. As you might expect, 'economic value' was a significant driver in that final determination – both on the revenue generation and expense sides.
DevicePharm Vice President Christine Horton spearheaded the event and added, "I am delighted that over 200 members of the Minnesota medical technology community enjoyed our event. The topic of 'value' is resident in almost all the marketing communications programs we are developing and executing with our clients today. We have to get 'value' right at every level of communication."

Clay Wilemon
CEO & Chief Strategy Officer
ClayW@DevicePharm.com