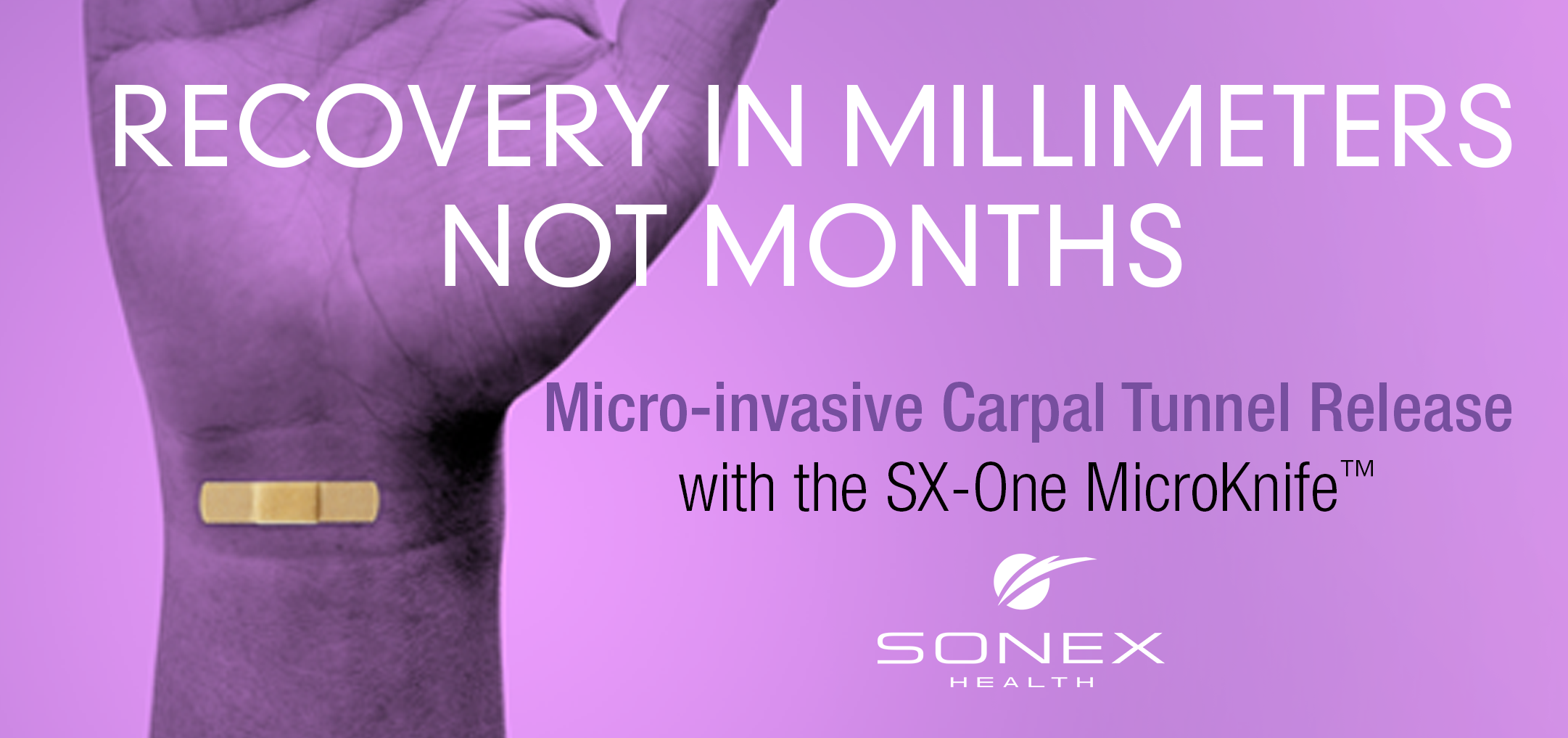 On February 22, 2017, Sonex Health announced the successful completion of the first ultrasound-guided carpal tunnel release procedure in the United States using the SX-One MicroKnife™. The SX-One MicroKnife™ is an ultra-low profile surgical device that allows physicians to perform Micro-invasive carpal tunnel release (CTR) surgery through a single micro-incision (4-5 mm) using ultrasound guidance.
The micro-incision made possible with the SX-One MicroKnife™ is up to five times smaller than incisions used during conventional CTR surgery. It is so small that the micro-incision can be closed with a small adhesive bandage or strip. In addition, the device is designed to protect sensitive anatomy when the transverse carpal ligament (TCL) is cut during the procedure.
The SX-One MicroKnife™ features Meerkat Technology™ that performs two critical functions during the procedure. It stores key safety and cutting elements inside the device to enable entry and exit through the micro-incision. And, once inside the wrist, the safety and cutting components are deployed to enhance the protection of nerves, blood vessels, tendons, and other sensitive anatomy during the procedure.
"Our first-in-man surgery represents Sonex Health's commitment to providing physicians with a minimally invasive solution for performing CTR," said Dr. Darryl Barnes, CEO of Sonex Health and co-inventor of the SX-One MicroKnife™. "We look forward to helping physicians offer millions of carpal tunnel syndrome patients a surgical option that helps them get out of pain, back to work, and back to normal activities quickly."
For more information about Micro-invasive CTR with the SX-One MicroKnife™ please contact info@sonexhealth.com or visit www.SonexHealth.com.

Clay Wilemon
CEO & Chief Strategy Officer
ClayW@DevicePharm.com