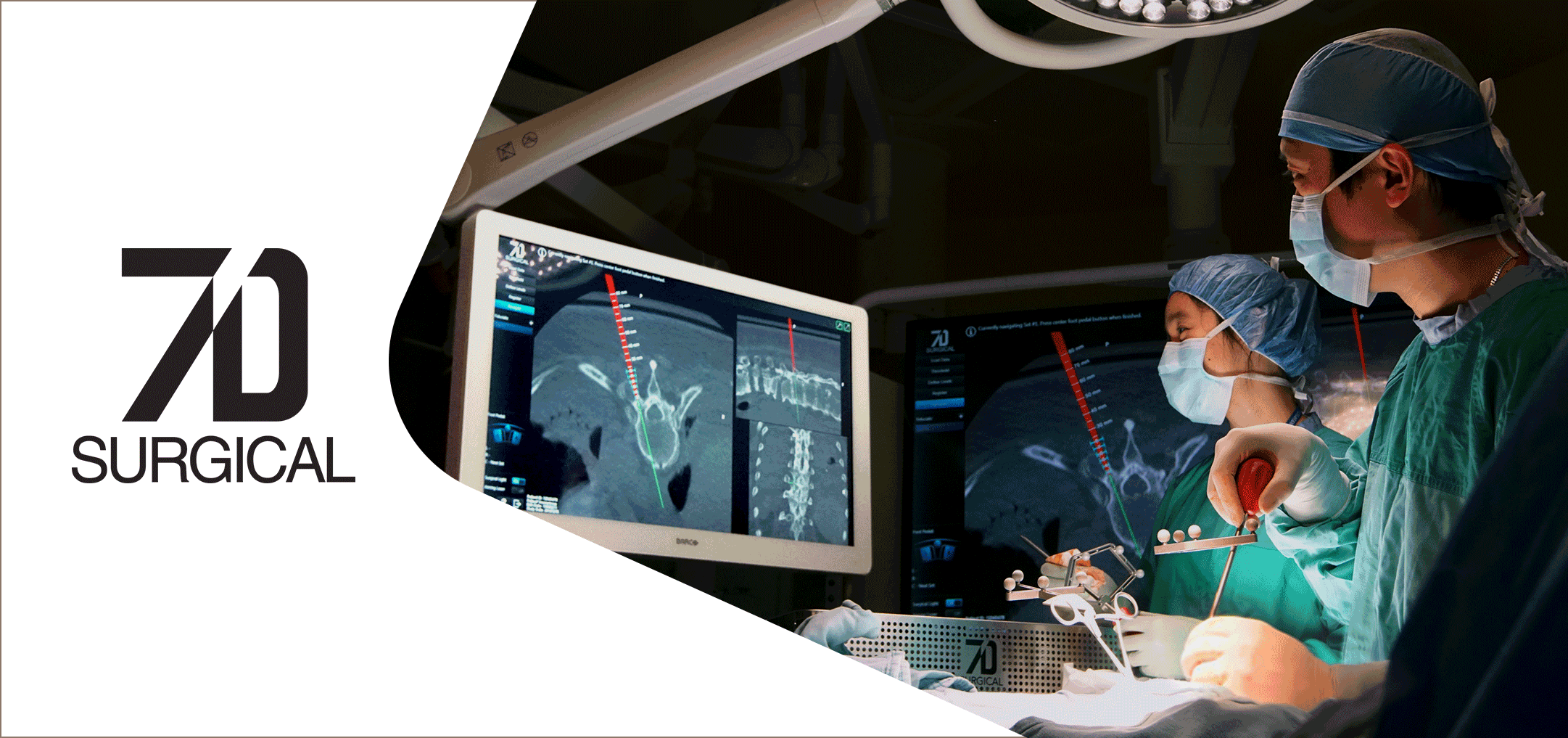 Innovative Platform Introduces Machine-vision Image Guided Surgery (MIGS™)
7D Surgical announced today (January 23, 2017) that it has received both 510(k) clearance from the U.S. Food and Drug Administration (FDA) and a medical device license from Health Canada enabling the North American commercial launch of its innovative Machine-vision Image Guided Surgery (MIGS™) system for spine surgery, the 7D Surgical System. This breakthrough system is designed to simplify and speed up surgical workflow, increase surgeon control, eliminate intraoperative radiation, and deliver exceptional value.
The 7D Surgical System enables near-instantaneous Flash Registration™ of the patient's anatomy. "Guided by our product philosophy of 'surgeons designing for surgeons,' we have achieved an unprecedented entire workflow time of less than 20 seconds for de novo spinal registration, unheard of in the spinal Image Guided Surgery (IGS) world where such registration can interrupt surgery for up to 30 minutes," said Dr. Victor Yang, President and Chief Scientific Officer of 7D Surgical, Senior Scientist at Sunnybrook Research Institute, and Staff Neurosurgeon at Sunnybrook Health Sciences Centre in Toronto, where prototype MIGS™ technology has been used in more than 160 patients in clinical trials.
"When navigating the spine, surgeons traditionally have had two time-consuming and expensive IGS options: systems that rely on intraoperative radiation emitting devices or systems that utilize laborious manual point matching techniques," said Beau Standish, Chief Executive Officer of 7D Surgical. "We believe the inefficiencies of these systems have limited the adoption of IGS in spine procedures to less than 20 percent. 7D Surgical's MIGS™ system has now removed these barriers, providing surgeons and their hospitals with a superior product option."
For more information about the 7D Surgical System or the company, visit www.7Dsurgical.com.
Clay Wilemon
CEO & Chief Strategy Officer
ClayW@DevicePharm.com